Please let us know if you are under a doctor's care for a serious medical condition (such as traumatic brain injury, current heart condition, active cancer treatment, pregnancy complications etc.) or necessary accommodations when scheduling your appointment.
Relaxation Massage
A perfect stress reliever using Swedish massage and an organic carrier oil infused with highest quality essential oils to facilitate smooth, gliding strokes and gentle kneading with light to medium pressure while you melt into deep relaxation.
Note: Selecting a 30-minute session only allows your therapist to focus on a targeted area of the body.
30 min | 60 min | 90 min | 120 min
$40 | $70 | $100 | $130
Therapeutic Massage & Bodywork Integration
Therapeutic Massage & Bodywork Integration sessions combine different modalities into a customized session for you based on your needs at the time of service. After gently warming the muscles, manipulation of the soft tissue using medium to deeper pressure, trigger point work and manual percussion may blend with lighter myofascial unwinding and targeted essential oil usage. Tools including our professional grade percussor for deep fascial release, Gua Sha stones, magnetic roller, and up to 10 minutes of MediCupping™ on a specific area may find their way into this session.
This session includes a complimentary Bio-Electromagnetic Energy Therapy treatment before or after your appointment.
Note: Gua Sha stones and MediCupping™ may result in temporary skin discoloration that resembles bruising. If you prefer not to use any of these modalities, please let us know. There may be temporary muscle soreness following this session as painful adhered tissues are released. Drinking plenty of water before and after this service help to minimize any discomfort.
Note: that selecting a 30-minute session length only allows your therapist to focus on a targeted area of the body.
30 min | 60 min | 90 min | 120 min
$45 | $75 | $105 | $140
Massage/CranioSacral Therapy Integration
Combine the best of two worlds--massage and CranioSacral Therapy!
CranioSacral Therapy (CST) is a gentle therapeutic method of assessing and balancing the body's craniosacral and fascial systems. A light, but focused touch, appropriate for all ages is used to remove blockages, called restrictions. Areas of restriction lead to decreased nerve transmission and circulation, then to symptoms of discomfort and pain.
Lymphatic Face Massage (LFM)
Since many lymph nodes are located under your chin, on your neck, near your clavicles, and behind your ears, a Lymphatic Facial Massage focused on encouraging lymphatic drainage can help revitalize the immune system. Enjoy this relaxing lymph-specific massage that encourages flow into the main lymphatic ducts using gentle pressure, then lightly moves up the neck and from the center line of the face towards the lymph-filtering areas on the perimeter of the face, then around the ears with light rhythmic press-and-release touch. The gentle motion creates subtle yet profound movement, which clears the lymph and improves cellular communication, assisting the body's natural cleansing process.
This service may be done fully clothed (tank top suggested).
Serenity in Sixty Massage
A soothing massage focused on face, hands and feet. Begin with a warm Epsom salts foot bath infused with your choice of essential oil followed by deep respite from the cares of life. Relaxation is the first step to the body's return to a state of equilibrium, or homeostasis, in which circulation can flow through the body uninterrupted while supplying nutrients and oxygen to the cells. You will leave feeling refreshed and revitalized.
Selecting a 90- or 120-minute Serenity session allows additional time in each area and incorporates more work on the neck and shoulders, forearms and lower legs into the session.
This service may be enjoyed clothed (except socks and shoes.)
60 min | 90 min | 120 min
$70 | $100 | $130
Hot Stone Massage
A delightful, deeply warming massage using heated basalt stones for the entire session to melt away tension. Hot stone strokes may reflect Swedish or Therapeutic massage movements depending on your preference and your body's needs.
For a more invigorating experience you may request alternating hot and cold stones.
60 min | 90 min | 120 min
$85 | $115 | $150
Reflexology Massage
Massage and steady focused pressure to the feet and/or hands. This service may be enjoyed fully clothed (except socks and shoes.)
30 min | 60 min | 90 min
$40 | $70 | $100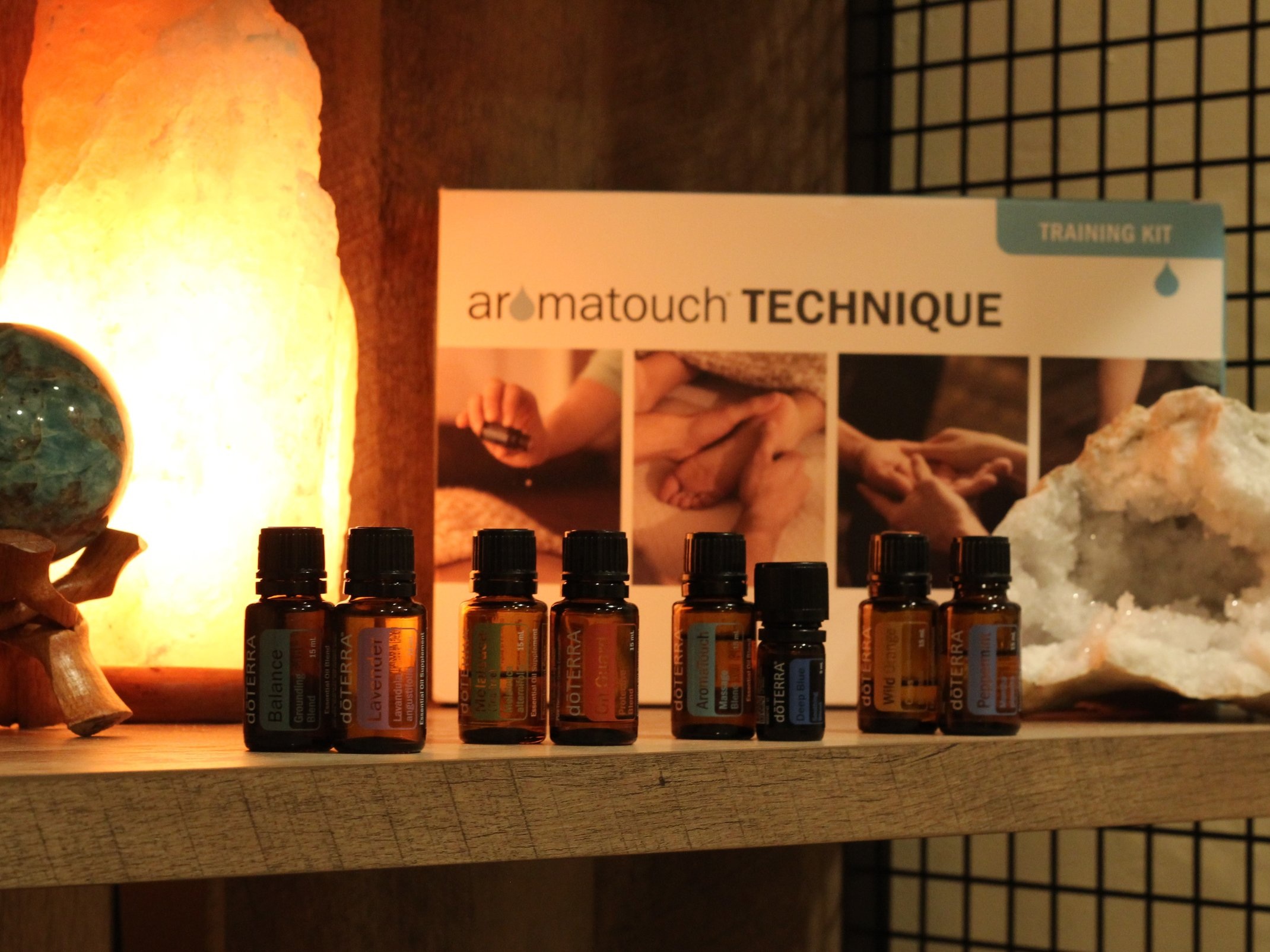 AromaTouch Technique™ or Symphony of the Cells™
Essential Oil Applications | $15
Bio-Electromagnetic Sessions