Bodywork & Body Image
"I really want a massage, but..."
Many people are hesitant about receiving massage and bodywork. Assumptions that massage and bodywork must be performed without clothing; self-consciousness over age, appearance, weight, scars, and disabilities; and concerns that touch may trigger negative memories from the past are all very real thoughts and emotions that those considering receiving a professional massage or bodywork session may encounter.
"There is no way I'm taking off my clothes for a total stranger!"
You don't have to! Many forms of massage and bodywork are typically performed fully clothed. Some of the clothed forms offered by Soteria Wellness, LLC include CranioSacral Therapy (a gentle hands-on technique that can provide profound changes in the body), chair massage (massage performed in a specially designed chair to facilitate comfort), Serenity In Sixty (massage of the face, hands and feet), Reflexology (stress-relieving pressure point work on the feet and/or hands), polarity (a relaxing treatment of rocking and holding movements), and Touch for Health Balance sessions. Other types of massage, including treatment and clinical work on specific areas of tension and pain, can easily be adapted to work over loose, comfortable clothing. Depending on the areas that need work, you may prefer to change into shorts and a tank top (lymphatic drainage, and massage of the arms/hands and legs/feet work well this way.)
Some clients find it helpful to start with clothed massage and eventually try other massage techniques as their trust and confidence in their therapist grows. Others achieve their wellness goals using only clothed techniques. Those who desire a traditional massage but are concerned about modesty, often find that once they understand the draping process used by a professional massage therapist they feel more comfortable. Before your first session, you will complete a Health History Form which asks about health conditions, areas of discomfort, and areas you prefer not to receive massage. This confidential information is updated at each visit. You are given an opportunity to discuss goals for the session and ask questions. Once the therapist has left the room, you may undress to your level of comfort, relax on the massage table, and cover yourself with a sheet and blanket. When the therapist returns, she will knock on the door to make certain you are ready and covered. One body section (back; shoulder to hand; leg to foot; shoulders, neck, and head) at a time is uncovered, worked on, then covered again. Throughout the process, private areas of the body and areas not being worked on are always carefully covered.
Your licensed massage therapist is a compassionate, trained healthcare professional. Soteria Wellness is a safe place of respect and healing. You are welcome here whether young or old, ill or well, underweight or overweight. Dawn's CST and massage experience, as well as previous medical experience as a nursing assistant and student nurse included providing personal care (nursing home and home care) for all ages, stages, and abilities. She has worked with hospice patients; expectant and new parents and their babies; adults and children with brain injuries, illnesses, and learning disabilities; amputees (with and without prostheses); cancer patients and survivors; those disfigured by accidents, burns, arthritis, suicide attempts, and various disease processes; and many other challenging situations. While she may ask questions to understand how best to work with your unique needs, rest assured that "Enhancing Optimal Health Throughout the Lifespan" applies to YOU! Debra also works from a gentle place of compassion and acceptance, bringing peace and relaxation. We can all benefit from the wonderful reduction of stress that bodywork brings!
"What if something freaks me out or I start crying?"
While a professional massage therapist or bodywork practitioner is not a substitute for a trained counselor or psychotherapist, they are trained in how physical and emotional trauma may be held in the body and released through touch (CranioSacral Therapy may be especially effective in this area.) On their journeys to wholeness, some people experience a release of stored emotions while receiving massage and bodywork. This is a perfectly normal event which often results in decreased stress and a new sense of peace. Massage and bodywork have been shown to ease anxiety and depression and provide a way to become more connected and comfortable living in the body you are in. This can be especially beneficial at times of high stress, growth, or change. Times of loss, adolescence, health challenges, a new job or relocation, or family changes like infertility, pregnancy, a new baby, or empty nest are all great times to seek out massage and bodywork.
"Wow! This might really help. I'm almost convinced..."
You might find more of the pages listed below to be helpful. However, please don't hesitate to contact us to find out more or to schedule a brief consultation.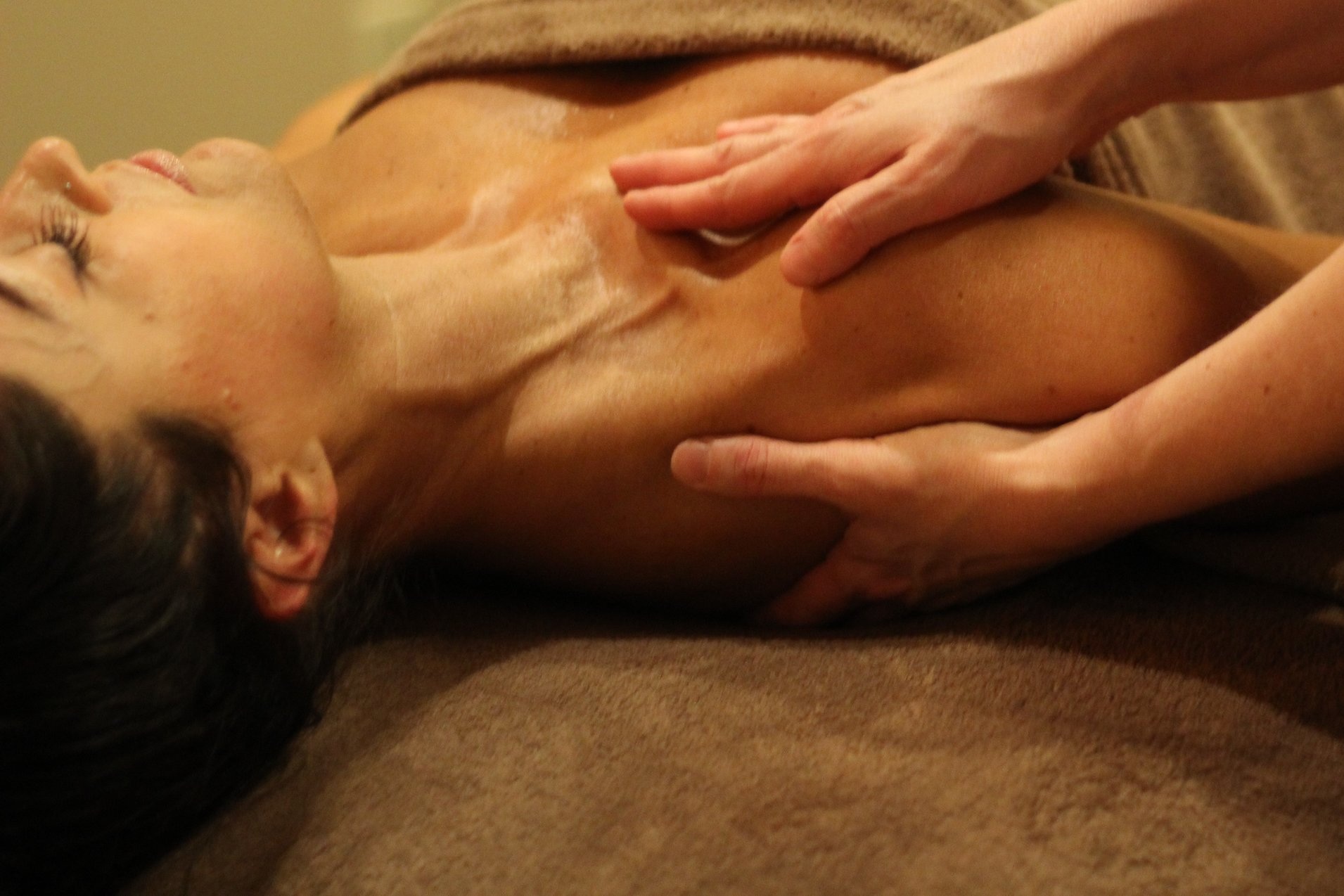 Benefits of Massage Therapy
Frequently Asked Questions